Project Details
Donated Candles making Machine to Annamma Special School
Ibrahimpatnam, Krishna District, AP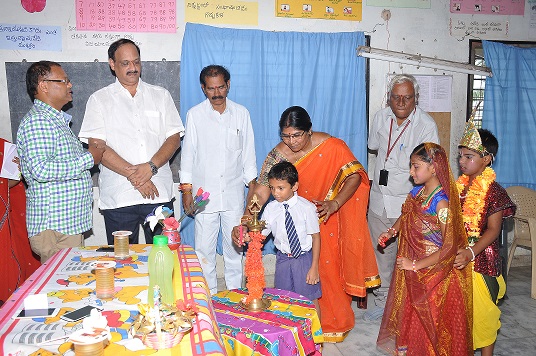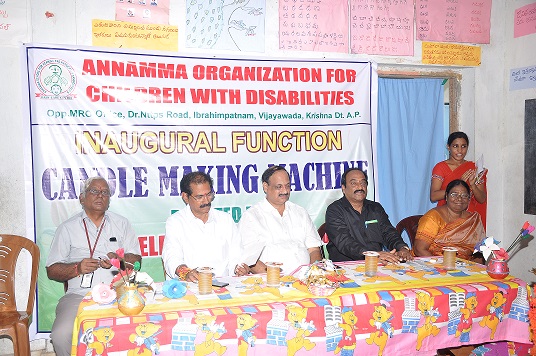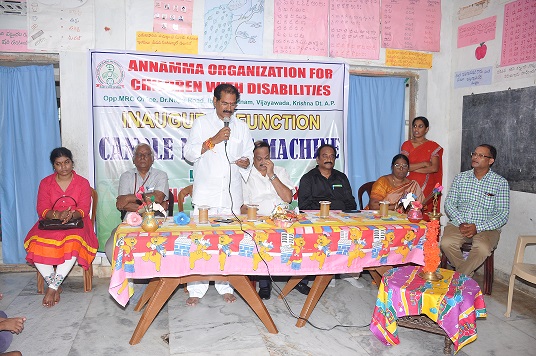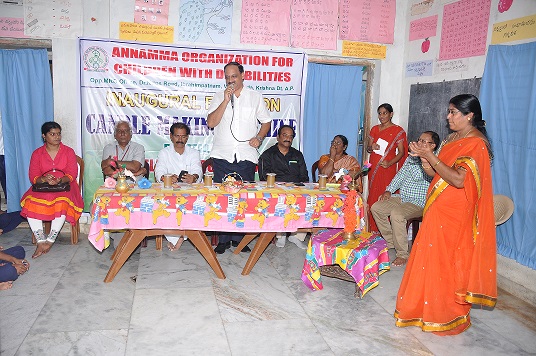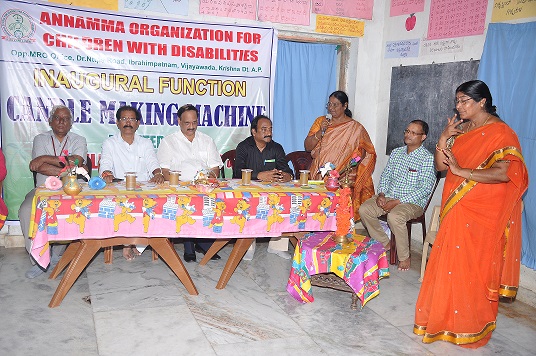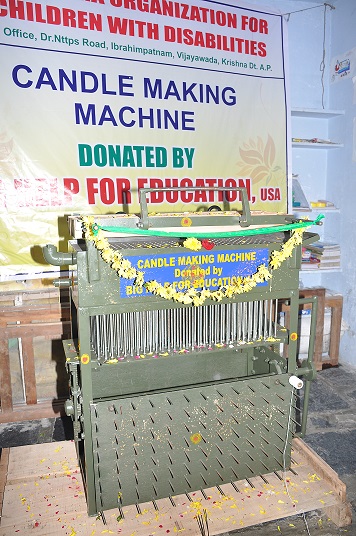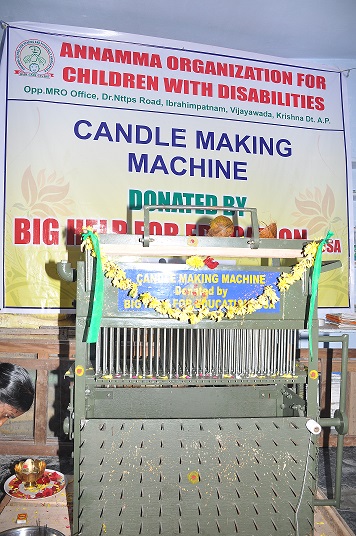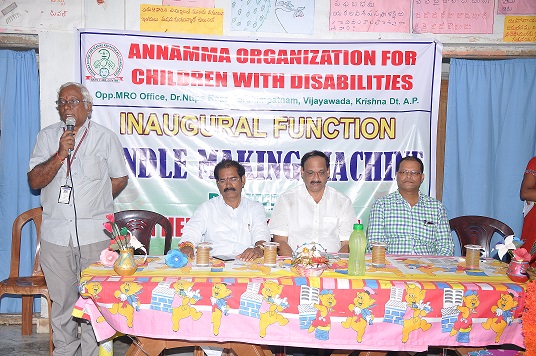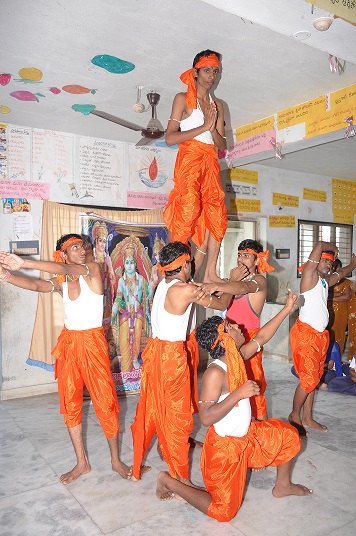 Bighelp provided Candles making machine to Annamma Special School A program for persons with disabilities in Ibrahimpatnam, Vijayawada located in Krishna district of Andhra Pradesh. Annamma Society is a pioneer organization to promote and establish Socio-educational capabilities to the Deaf & Dumb and Physically challenged children since 1997.


Annamma Organization has been providing rehabilitation with residential care, educational support and medical treatment for 120 of disabled children in its Special school and 45 disabled children in various villages as part of the community based rehabilitation program. As the children hail from the rural areas, they are mostly orphans or single parented.

The Secretary of the organization approached Bighelp for helping to procure candles making machine. By providing the machine empowers the mentally challenged children with training in Candle making machine for their self sustainable living. Considering the above facts Bighelp came forward to donate the candles making machine.


Project Geographic Information
Annamma special school is situated in VTPS Road, Irahimpatnam, Vijayawada, Krishna district of Andhra Pradesh, India. Ibrahimpatnam is mandal headquarters 260 kilometers away from Hyderabad and is connected with road and rail.


School Information
The organization established in 1997. At present the strength is 120 children who are either physically or mentally challenged.


Project Inaugural Information
The donation program was conducted by Bighelp on 05-10-2015 at the premises of Annamma and donated the candles making machine. The following personnel have attend the donation program

1. Mrs. Sarojini Maturi - Managing Trustee, Bighelp
2. Mr. R.Jawaharlal - Secretary, Bighelp
3. Mrs. P.Sirisha - P.H.P. Developer, Bighelp
4. Mrs. Vasantha Kumari - Secretary, Annamma school
5. Mr. Kiran Kumar - President, Annamma School
5. Mr. Trinadha Raju - Vice president, A.P.Cricket Association
6. Mr. M. Harihara Brahmaji - Mandal Revenue officer, Ibrahimpatnam
7. Mr. Jagadish Babu- Manager, L.I.C.
5. School staff and students

Mrs. M.Sarojini Managing Trustee narrated Bighelp activities and appreciated the role of Annamma Special school for serving the Deaf & Dumb and Physically challenged children.

Mrs. Vasantha Kumari, Secretary of the organization, thanked Bighelp organization for presenting the candle making machine to their organization.


Project Survey Information
Mrs. Vasantha Kumari Secretary of Annamma school approached our Vijayawada project Director. Mr. Ravindra PD of Vijayawda inspected the Organization. He held discussions with the director and staff. He forwarded the request to Administrative office. Administrative office pursued the request and felt genuine. The executive body headed by the Bighelp President Mr. Chand Pasha has reviewed the need for the support and approved the project.


More Projects At This Location
Sponsor A Child - Vijayawada, Year 2023-24
Provided NMMS Material to MK. Baig M.C.H. School-Vijayawada 2022-23
Sponsor A Child - Vijayawada, Year 2022-23
Sports Meet - Vijayawada - Year 2022
Sponsor A Child - Vijayawada, Year 2021-22
Sidhartha Medical College Alumni - Oxygen plant
Sponsor A Child - Vijayawada, Year 2020-21
Donated sports material to GVJZPH School - Jaggaiahpet
Provided Note books to Arise and Shine Society
Sponsor A Child - Vijayawada, Year 2019-20
Chalasani Vajramma & Punnaiah award for Excellence - Vijayawada
Youth Internship by Siddharth Ram Boppana - Summer 2018
Youth Internship by Vamsi Krishna Vetsa - Summer 2018
Sponsor A Child - Vijayawada, Year 2018-19
Sports Meet - Vijayawada - Year 2017
Bighelp Award For Excellence - Vijayawada
Sponsor A Child - Vijayawada, Year 2017-18
Donated computers to hearing impaired children at Annamma Special School
Donated Educational and Sports material to Annamma Special School
Sponsor A Child - Vijayawada, Year 2016- 17
Sponsor A Child - Vijayawada, Year 2015- 16
Sports Meet - Vijayawada - Year 2014
Sponsor A Child - Vijayawada, Year 2014- 15
Sponsor A Child - Vijayawada, Year 2013 - 14
Educational Material to 180 Poor Children in Vijayawada
Sponsor A Child - Vijayawada, Year 2012 - 13
Sponsor A Child - Vijayawada, Year 2011 - 12
Sponsor A Child - Vijayawada, Year 2010 - 11
Janyaa - Vijayavada - Year 2009 - 2010
Presented Education Materials to 100 Poor Children
Donors sponsored this project
| Project Start Date | Project Current Status |
| --- | --- |
| 05-Jul-2015 | Active |