Project Details
Chalasani Vajramma & Punnaiah award for Excellence - Vijayawada
Vijayawada, Krishna District, AP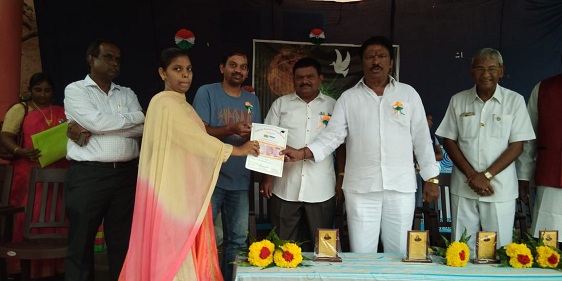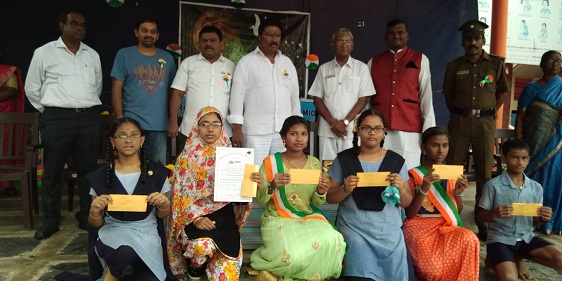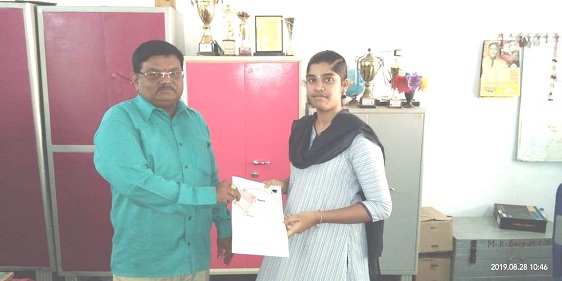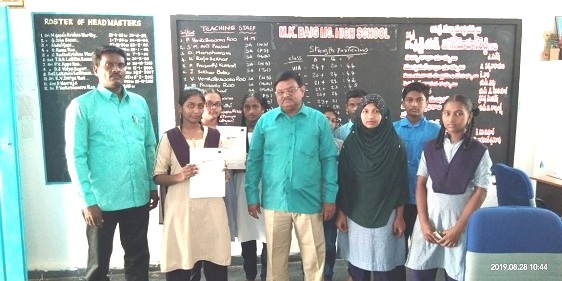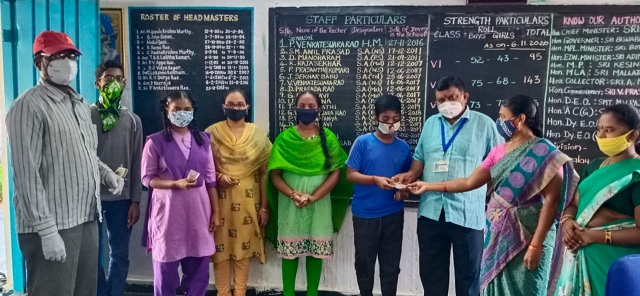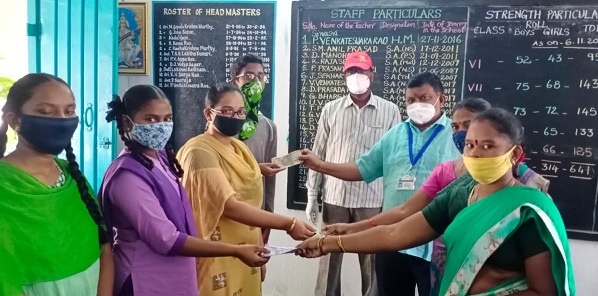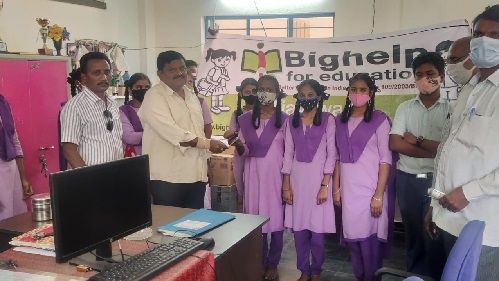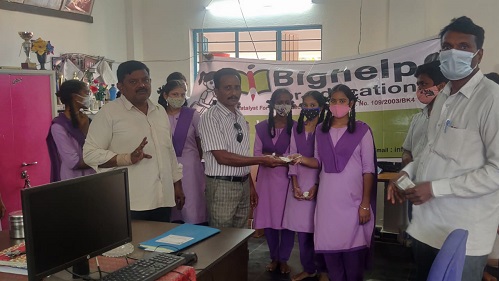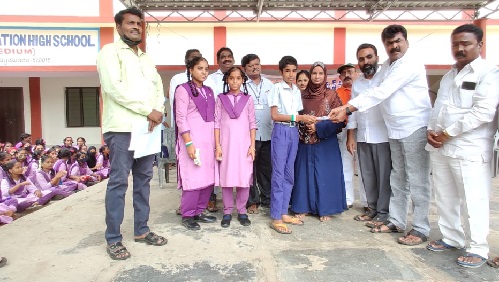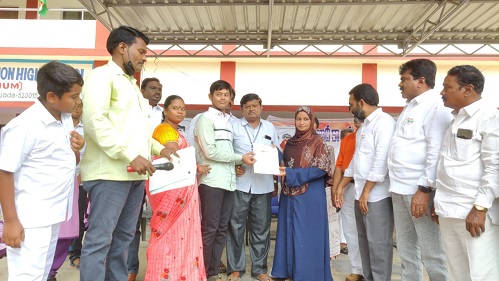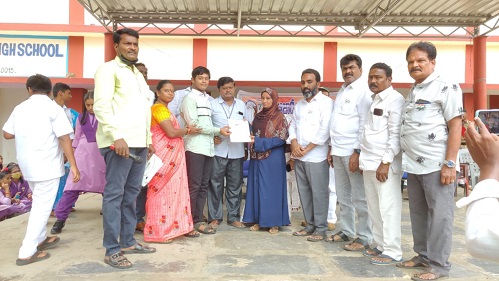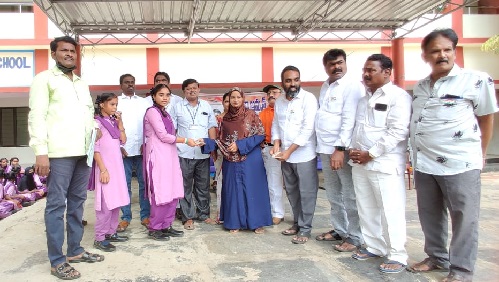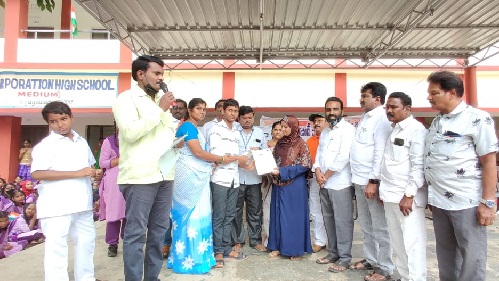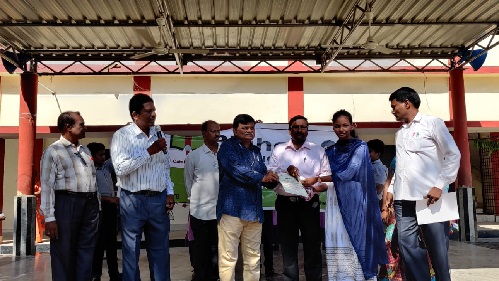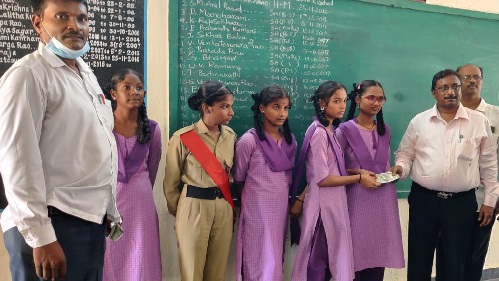 This Merit award has been established by Sushama Dasari to foster a competitive spirit among the students studying in M.K. Baig Municipal Corporation High School, Ajith Singh Nagar, Vijayawada.This award considers all students equally irrespective of their individual financial strength, cast or religion. This endeavor sends a message among all students that every child is capable of achieving highest rank regardless of their school, gender, class, race, religion or disability.

This award carries a cash prize of Rs. 3000 first prize and Rs. 2000 second prize for 10th class toppers and Rs.500/- for students from 6th to 9th class. A certificate also presented to the winning students of 10th class. Award is presented to the winners every year.

Following schools comes under this project:

1. M.K. Baig Municipal Corporation High School, Vijayawada.

| Year | Class | Medium | Prize | Winner Name | School Name | Additional Info |
| --- | --- | --- | --- | --- | --- | --- |
| 2017-18 | 6th Grade | English | 1st Prize | G.Saiteja | MK Baig MCH School,Vijayawada | He has got GPA 10 out of 10 |
| 2017-18 | 6th Grade | English | 2nd Prize | K.Sumana | MK Baig MCH School,Vijayawada | She has got GPA 9.7 out of 10 |
| 2017-18 | 7th Grade | English | 1st Prize | P.Jyothika | MK Baig MCH School,Vijayawada | She has got GPA 9.8 out of 10 |
| 2017-18 | 7th Grade | English | 2nd Prize | Sk.Nazia | MK Baig MCH School,Vijayawada | She has got GPA 9.5 out of 10 |
| 2017-18 | 8th Grade | English | 1st Prize | Ch.Likitha | MK Baig MCH School,Vijayawada | She has got GPA 9.8 out of 10 |
| 2017-18 | 8th Grade | English | 2nd Prize | V.Rajani | MK Baig MCH School,Vijayawada | She has got GPA 9.7 out of 10 |
| 2017-18 | 9th Grade | English | 1st Prize | B.Janaki | MK Baig MCH School,Vijayawada | She has got GPA 10 out of 10 |
| 2017-18 | 9th Grade | English | 2nd Prize | K.Geeta Kumar | MK Baig MCH School,Vijayawada | He has got GPA 9.8 out of 10 |
| 2017-18 | 10th Grade | English | 1st Prize | Sk.Meharunnisa Begum | MK Baig MCH School,Vijayawada | She has got GPA 10 out of 10 |
| 2017-18 | 10th Grade | English | 2nd Prize | D.Chinmai | MK Baig MCH School,Vijayawada | She has got GPA 9.8 out of 10 |
| 2018-19 | 6th Grade | English | 1st Prize | D. Praveen | MK Baig MCH School,Vijayawada | He got 9.5 G.P.A. out of 10 |
| 2018-19 | 6th Grade | English | 2nd Prize | H. Vardhan | MK Baig MCH School,Vijayawada | He got 9.0 G.P.A. out of 10 |
| 2018-19 | 7th Grade | English | 1st Prize | P. Prem Sagar | MK Baig MCH School,Vijayawada | He got 9.3 G.P.A. out of 10 |
| 2018-19 | 7th Grade | English | 2nd Prize | G. Sai Teja | MK Baig MCH School,Vijayawada | He got 8.5 G.P.A. out of 10 |
| 2018-19 | 8th Grade | English | 1st Prize | P. Jyothika | MK Baig MCH School,Vijayawada | She got 9.6 G.P.A. out of 10 |
| 2018-19 | 8th Grade | English | 2nd Prize | Sk. Naziya | MK Baig MCH School,Vijayawada | She got 9.2 G.P.A. out of 10 |
| 2018-19 | 9th Grade | English | 1st Prize | P. Kamakshi | MK Baig MCH School,Vijayawada | She got 9.7 G.P.A. out of 10 |
| 2018-19 | 9th Grade | English | 2nd Prize | K. Rajani | MK Baig MCH School,Vijayawada | She got 9.5 G.P.A. out of 10 |
| 2018-19 | 10th Grade | | 1st Prize | K. Vasudha Rani | MK Baig MCH School,Vijayawada | She got 9.5 G.P.A. out of 10 |
| 2018-19 | 10th Grade | | 1st Prize | B. Janaki | MK Baig MCH School,Vijayawada | She got 9.5 G.P.A. out of 10 |
| 2019-20 | 6th Grade | English | 1st Prize | V. Mohan | MK Baig MCH School,Vijayawada | |
| 2019-20 | 6th Grade | English | 2nd Prize | Ch. Sai | MK Baig MCH School,Vijayawada | |
| 2019-20 | 7th Grade | English | 1st Prize | Sk. Hameeda | MK Baig MCH School,Vijayawada | |
| 2019-20 | 7th Grade | English | 2nd Prize | Ch. Amulya | MK Baig MCH School,Vijayawada | |
| 2019-20 | 8th Grade | English | 1st Prize | G. Sai | MK Baig MCH School,Vijayawada | |
| 2019-20 | 8th Grade | English | 2nd Prize | P. Giri Kumar | MK Baig MCH School,Vijayawada | |
| 2019-20 | 9th Grade | English | 1st Prize | K. Jyothika | MK Baig MCH School,Vijayawada | |
| 2019-20 | 9th Grade | English | 2nd Prize | R. Sai Durga | MK Baig MCH School,Vijayawada | |
| 2019-20 | 10th Grade | | 1st Prize | P. Rajani | MK Baig MCH School,Vijayawada | |
| 2018-19 | 10th Grade | | 2nd Prize | K. Jithin Krishna | MK Baig MCH School,Vijayawada | |
| 2020-21 | 6th Grade | English | 1st Prize | M. Anusha | MK Baig MCH School, Vijayawada | She got 550 marks out of 600 |
| 2020-21 | 6th Grade | English | 2nd Prize | D. Kishore | MK Baig MCH School, Vijayawada | He got 520 marks out of 600 |
| 2020-21 | 7th Grade | English | 1st Prize | Sk.Shaheena | MK Baig MCH School, Vijayawada | She got 560 marks out of 600 |
| 2020-21 | 7th Grade | English | 2nd Prize | Ch.Manoj Kumar | MK Baig MCH School, Vijayawada | He got 540 marks out of 600 |
| 2020-21 | 8th Grade | English | 1st Prize | N.Deepika Lakshmi | MK Baig MCH School, Vijayawada | She got 530 marks out of 600 |
| 2020-21 | 8th Grade | English | 2nd Prize | D.Amulya Chandana | MK Baig MCH School, Vijayawada | She got 520 marks out of 600 |
| 2020-21 | 9th Grade | English | 1st Prize | K.Pravallika | MK Baig MCH School, Vijayawada | She got 520 marks out of 600 |
| 2020-21 | 9th Grade | English | 2nd Prize | M.Bhavani | MK Baig MCH School, Vijayawada | She got 480 marks out of 600 |
| 2020-21 | 10th Grade | English | 1st Prize | Sk.Basha | MK Baig MCH School, Vijayawada | He got 560 marks out of 600 |
| 2020-21 | 10th Grade | English | 2nd Prize | Geetha Devi | MK Baig MCH School, Vijayawada | She got 550 marks out of 600 |
| 2021-22 | 6th Grade | English | 1st Prize | D.Kishore | MK Baig MCH School,Vijayawada | He got 550 marks out of 600 |
| 2021-22 | 6th Grade | English | 2nd Prize | B.Harini | MK Baig MCH School,Vijayawada | He got 540 marks out of 600 |
| 2021-22 | 7th Grade | English | 1st Prize | G.VVN.SS.Jaswanth | MK Baig MCH School,Vijayawada | He got 560 marks out of 600 |
| 2021-22 | 7th Grade | English | 2nd Prize | SK.Bashivunrisa | MK Baig MCH School,Vijayawada | He got 530 marks out of 600 |
| 2021-22 | 8th Grade | English | 1st Prize | N.Deepika Lakshmi | MK Baig MCH School,Vijayawada | He got 540 marks out of 600 |
| 2021-22 | 8th Grade | English | 2nd Prize | SK.Judeda | MK Baig MCH School,Vijayawada | She got 535 marks out of 600 |
| 2021-22 | 9th Grade | English | 1st Prize | P.Hameda | MK Baig MCH School,Vijayawada | He got 570 marks out of 600 |
| 2021-22 | 9th Grade | English | 2nd Prize | K.Pravallika | MK Baig MCH School,Vijayawada | She got 550 marks out of 600 |
| 2021-22 | 10th Grade | | 1st Prize | P.Giri Kumar | MK Baig MCH School,Vijayawada | He got 568 marks out of 600 |
| 2021-22 | 10th Grade | | 2nd Prize | J.Hemanth Singh | MK Baig MCH School,Vijayawada | He got 496 marks out of 600 |
| 2022-23 | 6th Grade | English | 1st Prize | G. Geetha | MK Baig MCH School,Vijayawada | She got 500 marks out of 600 |
| 2022-23 | 6th Grade | English | 2nd Prize | N. Naveen Kumar | MK Baig MCH School,Vijayawada | He got 500 marks out of 600 |
| 2022-23 | 7th Grade | English | 1st Prize | Krupa Rani | MK Baig MCH School,Vijayawada | She got 520 marks out of 600 |
| 2022-23 | 7th Grade | English | 2nd Prize | Abdul Raheem Shaik | MK Baig MCH School,Vijayawada | He got 510 marks out of 600 |
| 2022-23 | 8th Grade | English | 1st Prize | P. Sahitya | MK Baig MCH School,Vijayawada | She got 544 marks out of 600 |
| 2022-23 | 8th Grade | English | 2nd Prize | K. Bhavya | MK Baig MCH School,Vijayawada | She got 531 marks out of 600 |
| 2022-23 | 9th Grade | English | 1st Prize | P. Hema Akshaya | MK Baig MCH School,Vijayawada | She got 570 marks out of 600 |
| 2022-23 | 9th Grade | English | 2nd Prize | K. Venkat | MK Baig MCH School,Vijayawada | He got 566 marks out of 600 |
| 2022-23 | 10th Grade | English | 1st Prize | Neelima | MK Baig MCH School,Vijayawada | She got 569 marks out of 600 |
| 2022-23 | 10th Grade | English | 2nd Prize | Hameeda Shaik | MK Baig MCH School,Vijayawada | She got 561 marks out of 600 |
More Projects At This Location
Sponsor A Child - Vijayawada, Year 2023-24
Provided NMMS Material to MK. Baig M.C.H. School-Vijayawada 2022-23
Sponsor A Child - Vijayawada, Year 2022-23
Sports Meet - Vijayawada - Year 2022
Sponsor A Child - Vijayawada, Year 2021-22
Sidhartha Medical College Alumni - Oxygen plant
Sponsor A Child - Vijayawada, Year 2020-21
Donated sports material to GVJZPH School - Jaggaiahpet
Provided Note books to Arise and Shine Society
Sponsor A Child - Vijayawada, Year 2019-20
Youth Internship by Siddharth Ram Boppana - Summer 2018
Youth Internship by Vamsi Krishna Vetsa - Summer 2018
Sponsor A Child - Vijayawada, Year 2018-19
Sports Meet - Vijayawada - Year 2017
Bighelp Award For Excellence - Vijayawada
Sponsor A Child - Vijayawada, Year 2017-18
Donated computers to hearing impaired children at Annamma Special School
Donated Educational and Sports material to Annamma Special School
Sponsor A Child - Vijayawada, Year 2016- 17
Donated Candles making Machine to Annamma Special School
Sponsor A Child - Vijayawada, Year 2015- 16
Sports Meet - Vijayawada - Year 2014
Sponsor A Child - Vijayawada, Year 2014- 15
Sponsor A Child - Vijayawada, Year 2013 - 14
Educational Material to 180 Poor Children in Vijayawada
Sponsor A Child - Vijayawada, Year 2012 - 13
Sponsor A Child - Vijayawada, Year 2011 - 12
Sponsor A Child - Vijayawada, Year 2010 - 11
Janyaa - Vijayavada - Year 2009 - 2010
Presented Education Materials to 100 Poor Children
Donors sponsored this project
| Project Start Date | Project Current Status |
| --- | --- |
| 15-Aug-2018 | Active |